---
Stainless-Steel Turbo Flex 360 Degree Rotatory Flexible Sink 6" Faucet Sprayer Extension with Jet Stream and Spray Settings Brand New & High quality Quickly upgrades your ordinary faucet into a flexible hands free sprayer with extended reach.
Turbo Flex 360 Instant Sink Hose
The handy, flexible sprayer swivels 360º and features two spray settings – an aerated jet stream or a wide angle spray. Great for cleaning sink, rinsing fruits and veggies, filling tall vases, shampooing hair,pet bathing, bathing baby and more.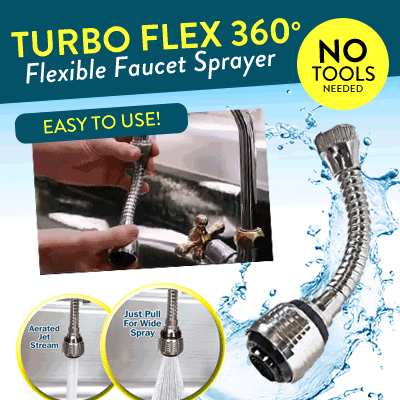 The 6 inch hose is made of durable smart steel but is flexible, so it can reach where ordinary faucets can't. Making cleaning the sink and odd size items easy. Attaches easily without tools to fit most standard-sized faucets.
Material: chrome finish Package Includes:1 pc *
Turbo Flex Extension Faucet Product dimensions: 6.5"x1.5"x1.5" Perfect for kitchens, bathrooms and laundry rooms.