---
THE ONE STEP SOLUTION FOR A FLAWLESS CLOSET
Our 5-in-1 pant hangers have a collapsible design, which effectively frees up more space for storing clothes in your closet.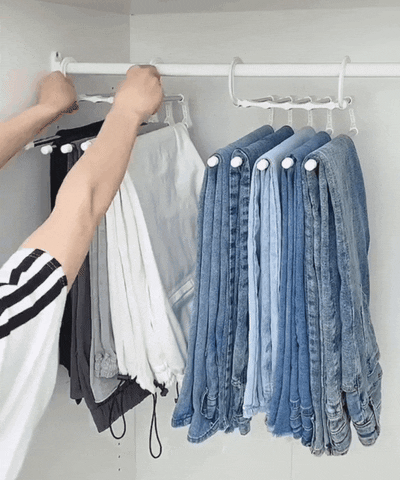 BENEFITS OF MAGIC HANGER
✔ KEEP ORGANIZED - Our space-saving Magic Hangers are the best way to organize and declutter your closet and wardrobe.

✔ FREE UP SPACE - Fit up to 5x more clothes in your closet, allowing you to maximize your closet space. 

✔ BROWSE WITH EASE - Our collapsible design lets you display your wardrobe neatly and conveniently, so you can browse through your entire wardrobe in seconds.

✔ CREASE AND WRINKLE-FREE - Our Magic Hangers are designed not to crease your pants. They keep your pants wrinkle-free and ready to wear! 
HOW DOES IT WORK?
Two hooks in each side design which can hold pants steadily, no worry about leaning.

It can hold more than five pants in a time, put your pants to this organizer, it would bring you a very nice mood during a day not only because the neat and tidy of your closet but the folds free of your lovely pants.

Give your ironed pants to this hanger to keep them neat.
WHO IS IT FOR?
They're designed to help you free up closet space and keep a more organized wardrobe, so you can browse your clothes with ease.
It's the perfect solution for anyone looking for additional closet space and, in turn, a more practical closet.

SPECIFICATIONS
Materials: Stainless Steel,
PlasticSize: 13.78 x 5.91 x 2.76 inches
Weight: 140g